Facilities
Kent International Airport's key physical and operational capabilities are:
Kent International Airports Runway: Single 2,752 metres x 61 metres - recently resurfaced and remarked. This runway is sufficiently long and wide to service B747s and the new A380s.
Aprons: New passenger terminal apron capable holding of 4 X B737s.
Separate large freight terminal apron and standing areas capable of holding 3 to 4 B747s.
Air Traffic Control and Navigation: Instrument Landing System (ILS) Category 1 on both runways (i.e East to West and West to East). Non-directional beacons (NDB) and Distance Measuring Equipment (DME) are also installed.
Kent Airport Fire Services: Three fire tenders and crew, ICAO and UK CAA compliant to Category 9 fire cover, consistent with large freight and wide body passenger jet operations.
Land Area: The total area is 296 hectares:
Spotters Balcony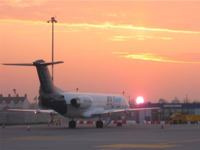 Visiting Aircraft pictured at
Kent International Airport